(This article was reposted from Bartell Global  and written by Josh Locke. This article features the UNDERSTANDING THE DIFFERENCES BETWEEN CONCRETE STAIN AND DYE.)
 Colored concrete floors have become wildly popular in recent years because of their  very attractive appearance, wide variety of design options, and their sustained durability…
Coloring concrete is achieved through either staining or dyeing.
A common challenge with contractors who are not really familiar with the concrete coloring process typically is that they use the words "stain" and "dye" interchangeably, treating them like they are the same thing. But this generalization can lead to future issues for the unwary contractor. Be aware that there are significant differences between the two coloring processes, and choosing one over the other can easily result in a successful project or a failed one…
To complicate things even more… when choosing a stain, thought should be given to weather you are using an acid-based stain or a water-based stain. The same is true (though to a lesser degree) when choosing the correct dye, you have the option is to choose either an acetone or water-based dye.
This article will consider each method individually, their pros and cons to see which one is best for your projects…
ACID AND WATER BASED STAINS
ACID BASED STAIN…Acid based stains are referred to as being "Reactive" stains, they are a mixture of either Hydrochloric or Phosphoric Acid, water, and metallic mineral salts that when applied to the surface of concrete reacts with the calcium, Limestone that is in the concrete resulting in a mottled, marbled colors that vary in shade and color due to the varying levels of calcium across the surface of the concrete, more calcium means more color. This results in a attractive finish that mimics natural stone and marble like finishes. Typically, this method must be sealed and is UV stable. This method works well on both stamped and common concrete slabs, both indoors and outside. This coloring method generally is not a good choice to color concrete when you are mechanically polishing the concrete after application
Some pros and cons… acid based stains, when applied correctly provide a very durable, long lasting surface with low maintenance. keep in mind though when considering acid-based stains… It is important to remember that because they are reactive with the calcium that varies greatly in the slab, you do not get a solid, consistent, monolithic, repeatable finish with acid-based stain. Nor do you get a consistent repeatable color, for instance, because of the chemical reaction, you could possibly apply green stain and get brown concrete. so, always do a mockup on the slab to be stained so the end-user knows what THEIR SPICIFIC SLAB will look like for their approval. this is important to keep in mind when trying to match colors from one concrete surface to another.
Also, there is a higher level of skill and experience needed when working with acid stains due to the unpredictable nature of this method. Everything from the amount of calcium in the slab to the porosity of the concrete, how old the slab is, even the environment makes a difference in the outcome. As well as the importance of neutralizing the acid after application. Because of these characteristics, acid-based stains are best left to the professionals and not a good choice for DIY applications.
WATER-BASED STAIN…This method of coloring concrete has increased in popularity in recent years because of their ease of use. It is considered a "Non-reactive" stain, They do not rely on any chemical reaction to produce the color but are mostly a water based, sometimes an Acrylic product applied much like a coat of paint and is dependent on the product absorbing into the porous concrete and achieving a mechanical bond. These products have also gained in popularity because of their broader choice of color options and combined with them being much easier to apply making it a great choice for the DIY applicator.
Some pros and cons to keep in mind… These products with the correct surface prep and sealer are typically UV stable and a great choice for outdoor applications. Potential downsides to water-based stains… they are not very durable, they can chip or wear off, they are susceptible to moisture migration damage, they can fade if a seal coat maintenance regiment is not kept up with. these products are more topical than integral in nature and far more susceptible to damage, wear, and fading. (Especially if not applied correctly) and has the potential to look like the floor in the following image. for this reason, water based stain is my least favorite way to color concrete.
Like all materials though, there are higher and lower quality products that preform very differently. So do your homework to ensure that you have a quality product should you choose this option.
Concrete Floors for Epoxy Coating
WATER AND SOLVENT BASED DYES
Dyes come in a wide variety of vibrant colors that deliver a more monolithic finish with little variation (As the image above shows). They are ultra-fine particles of color that when mixed with either water or acetone penetrates the surface of the concrete and permanently changes the color of the surface of the concrete. This method is integral and not topical, there is nothing to wear off the surface of the concrete. the concrete itself is the new color. So, make sure you like the color because depending on the color you chose, it is very difficult to impossible to remove.
WATER BASED DYES… these dyes typically come already mixed with water or in a concentrated form that you then mix with the correct amount of water for application. With many dyes, The applicator has some discrepancy as to how vibrant he wishes the color to be, less water, repeated application, means more color and more water, single application delivers a more subtle, more translucent color.
SOLVENT OR ACETONE BASED DYES… solvent based dyes come in a powder form and must be mixed with solvent or acetone and preforms much like water based dyes, many can also be concentrated or diluted to provide a wide range of color saturation. The differences are that solvent-based dyes dry very fast, almost instantly and can be polished or sealed almost immediately after application making it a great option when a project has a fast turnaround time or when doing stencil work as it is much easier to produce clean lines with no bleed-through (When done correctly).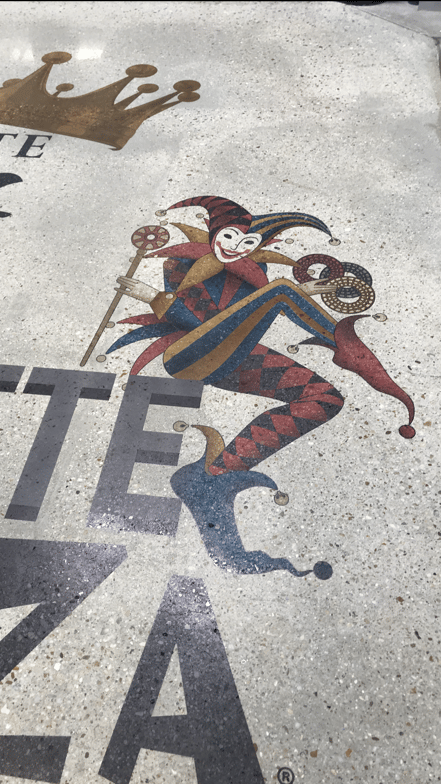 example of dyed concrete artwork 
Important word of warning… solvents, acetone fumes are explosive!!! When using these products, a high degree of care must be taken to insure the correct amount of ventilation, no smoking (Than one was obvious) but other ignition sources must be guarded against, like pilot lights, running engines, plumbers installing coper pipes, welders, etc. anything that can be an ignition source. Take this seriously, contractors have caused permanent, serious injury to themselves and others and some have even been killed working with acetone in areas that were not properly vented.
Some pros and cons… Both water-based and solvent-based dyes have a number of advantages, they come in a wide vibrant range of colors that are accurately repeated from slab to slab, they are easy to apply, dyes are monolithic, the color is very consistent across the surface of the concrete, dyes are polishable where most stains are not. You also… with practice… can create Monochromatic colors, mix a little white with red to make pink or black to red to make maroon. Last, dyes are durable, with minimal maintenance the color last for many years. But, remember, they are mostly non UV stable and can not be used in the open environment where direct or indirect sunlight is present. Dyes also do not give you that modeled, varying color effect that a lot of end-users are looking for.
Stained and dyes floors can be truly beautiful and be dramatically different from on another. Getting to understand the differences between stains, dyes and the carriers of each weather it be water, acids, or solvents as well as where one method is better than another on a specific application helps contractors, architects, sales teams and most importantly the end-user to understand the pros and cons of each method, enabling them to make an informed decision on which coloring method is best for their projects.
PREPARING THE SURFACE FOR COLORING…
Last thought, because we are a surface preparation equipment manufacturer, we here at Bartell Global understand clearly the importance of a correctly prepared concrete surface for the successful outcome of any project…  it does not matter that you have done your research, that you have chosen the prefect method and material for coloring your concrete slab, none of that matters, if you have not correctly prepared the floor to accept the product, A floor not correctly profiled is at serious risk of failure.
for a successful project…
choose the look desired.
choose the correct material for your project.
find a experienced allocator.
properly profile your concrete surface prior to application.
and your prepared for a successful project coloring concrete.
Epoxy & Urethane Coatings
Cipkar Epoxy provides multiple floor coating systems include anti-slip epoxies and urethane coatings. Applying these easy to maintain coatings allows for durability against high-traffic.
The popularity of polished concrete has dramatically increased in locations such as warehouses, retail spaces and offices because of its durability and cost effectiveness.
Concrete Surface Preparation
Concrete surface preparation is vital to the success of any concrete system. That's why at Cipkar Epoxy we use the best equipment and take pride in our expertise to provide the best preparation.
Thanks for your interest in our services at Cipkar Epoxy. Please contact us via the form below for a quote, or give us a call at 519-796-0546